Case Studies
Ernest Mines – Rayne Township, Indiana County.
Amerikohl purchased several hundred acres of property from the Rochester & Pittsburgh Coal Company (R&P) in 1997; around the old mining town of Ernest. R&P operated an extensive deep mining complex, cleaning plant and coke ovens in the area from 1903 until 1965. During these years, millions of tons of coal refuse from the cleaning plant were deposited on the surface as refuse piles. Two abandoned deep mine discharges flowed from the mines into McKee Run, killing all life in the streams.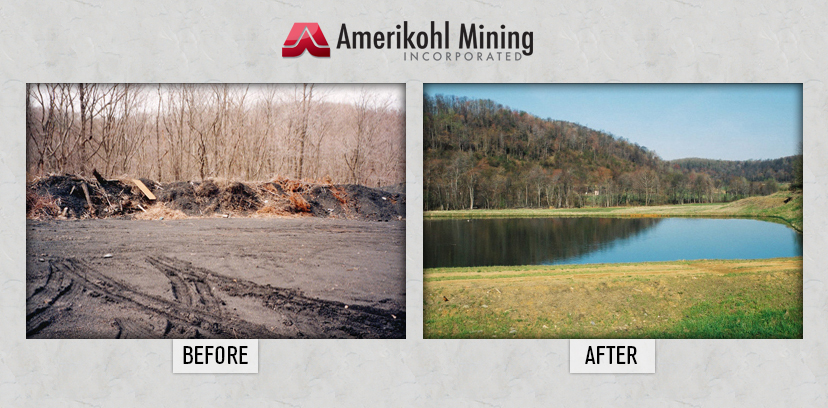 After Reclamation:
Amerikohl purchased the property for the remaining surface mine reserves and to clean up the nearly 100 acres of coal refuse. As of the end of 2004, Amerikohl has shipped 800,000 tons of coal refuse fuel to co-generation plants for electric generation. Thirty-five acres of barren land are now planted and growing grasses and trees. Amerikohl will remove another 500,000 tons of refuse over the next 5 years; thereby, cleaning up another 60 acres.
As part of the surface mining operation, Amerikohl encountered the mine discharge from the Ernest #1 deep mine, relocated the discharge point and constructed a passive treatment system to improve the quality of McKee Run. This effort cleaned up 4,400 feet of stream, and at no cost to the taxpayer.
The Ernest Borough water system utilizes a 100-year-old reservoir built in McKee Run. The reservoir had virtually no storage capacity due to siltation over the years. Amerikohl constructed a new, 1.8 million gallon reservoir for the borough and replaced 1,600 feet of old cast iron water main pipe. In addition, Amerikohl purchased two acres of property for the Ernest Bible Church and constructed a new parking lot for the congregation. These projects were done at no cost to the residents.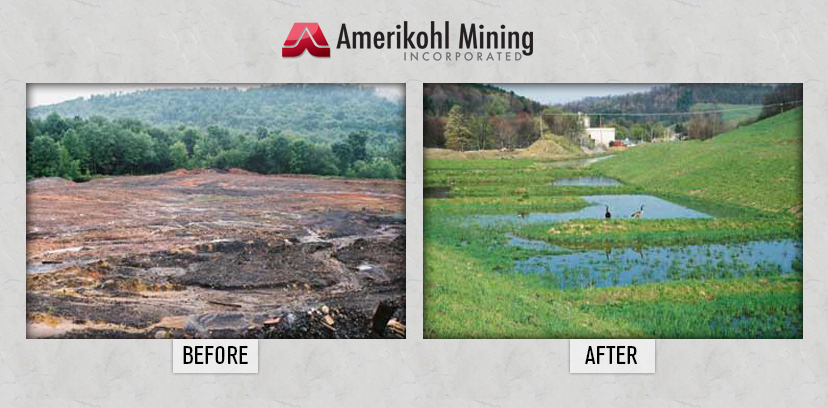 Huskins Run Mine – Cowanshannock Township, Armstrong County.
Amerikohl purchased the 800 acre Huskins Run reserve in 1996 from the Rochester & Pittsburgh Coal Mining, Co (R&P). The area was extensively deep mined in the late 1800s and early 1900s. R&P surface mined 15 acres in the early 1960s and left these areas un-reclaimed.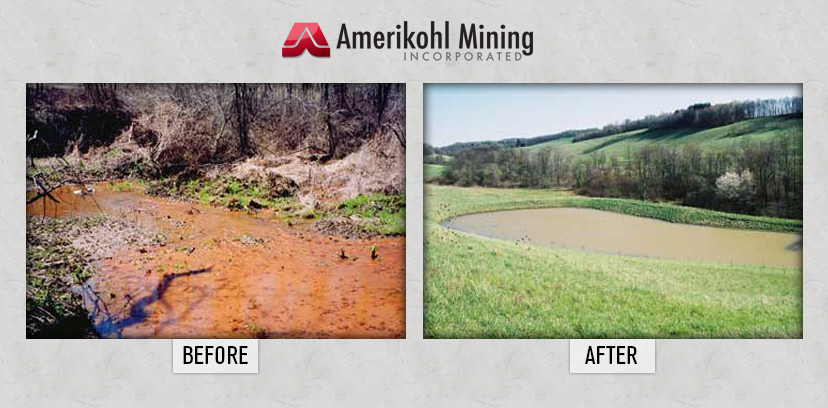 After Reclamation:
As part of the mining process, Amerikohl reclaimed the 2,400 feet of abandoned Upper Freeport highwall, and returned the area to productive forestland. Two abandoned deep mine discharges were encountered during the operation. They were degrading the water quality of Huskins Run, a tributary to Cowanshannock Creek, a cold water fishery. The result of our remediation work on these discharges is:
Upper Freeport Discharge
Upper Kittanning Discharge
We were able to improve these discharges without chemical treatment, through sound mining and engineering practices.
Amerikohl will be donating 5 acres of property and a large building currently used to house the municipal water facilities for the town of Margaret, to the water authority. The water supplies for the town and the building are located on property owned by Amerikohl.