Associations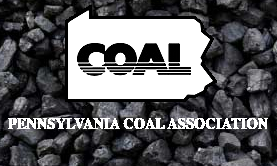 The Pennsylvania Coal Association (PCA) is a trade organization representing surface and underground coal operators that produce bituminous coal mined in the Commonwealth. In addition, PCA represents companies whose livelihood depends in whole or in part on a robust coal industry by providing essential services to the coal industry, ranging from engineering and consulting to financial, insurance and the sale of mining equipment.
The Association's mission is to advance the mining and use of the state's most abundant and economical energy resource in an environmentally responsible manner through sound legislative and regulatory policies and judicial decisions. While recognizing the need to balance an increasing demand for energy with assuring a safe and clean environment, PCA believes that prudent national or state energy policies can neither neglect nor penalize the use of coal but must promote it. Towards this goal, PCA strives to:
Families Organized to Represent the Coal Economy (F.O.R.C.E.) is dedicated to promoting the importance of Pennsylvania's coal industry and the value of a healthy coal economy. F.O.R.C.E. represents the tens of thousands of owners, employees, and families that benefit through job and business opportunities thanks to Pennsylvania's coal industry.
Our mission is to be a unified voice in support of Pennsylvania coal, the families and businesses whose livelihoods depend upon it and the importance of a healthy coal industry to our regional, state and national economies.

Do you have an energy related question? Retrieve the most up-to-date information, statastics and anyalysis on the state's and country's energy information. The EIA supplies fact sheets, outlooks, forcasts and sources for the energy industry. Stay connected with the news and press rooms.